Thu, 15th Aug 2013 | Posted by Ross
Hi everyone. Welcome back to the Ghostlight blog. Many of you have been asking me to give you some advance warning of when the Elminage pre-orders are due. So you can snag one of only 300 of these awesome bundles.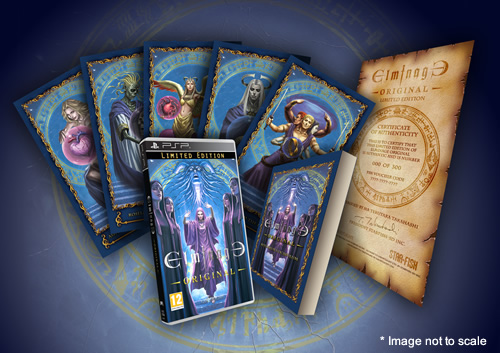 Well I'm happy to tell you that we're expecting pre-orders for Elminage to open next Thursday afternoon when we will also be able to announce the price and release date for this excellent dungeon crawler. We'll be issuing reminders through our Facebook and Twitter pages so feel free to keep an eye on them if you think that would be handy :).
The other thing you've all been asking about is how the Devil Survivor 2 pre-orders are going. Well I do now have numbers for you and I can report that we have had 627 pre-orders so far. As terrific as the response has been, and we thank you enormously for your support, we know that there are still a number of you out there that would like to join this very select group. We would like to remind everyone that the pre-order for DS2 and the DS2/DSO double pack are only open for another two weeks. The closing date is set for 30th August 2013.
Devil Survivor 2 is available in two packages:
Devil Survivor 2 (DS)
This special edition will be factory sealed and include an exclusive A4 folded poster featuring the cover art. Anyone pre-ordering the game will have the option to include their name in the manual and also as a bonus, pre-ordered units will feature a special gold coloured Devil Survivor logo on the inlay.
Pre-Order price £24.99/€29.99
The game will be available to all PAL territories.
Devil Survivor 2 (DS) & Devil Survivor Overclocked (3DS) with a £10.00 discount!
Both games will be factory sealed and as with Option 1, anyone pre-ordering the bundle will have the option to include their name in the DS2 manual.
Pre-Order price £49.98/€59.98 (usual price £59.98/€69.98)
Regrettably, we will not be able to ship this bundle to Germany due to an existing distribution agreement.
(All prices exclude P&P.)
Remember, pre-orders will close on Friday 30th August, by which time we hope to have reached our target of 1,800 units ordered of Devil Survivor 2 between these two offers. If we hit our target, then we're expecting the game to be released by the end of September. However, should we not meet this quota then everyone who ordered Devil Survivor 2 will receive a full refund, while those who ordered the double pack will have the option to receive Devil Survivor Overclocked with the £10.00 discount.
That's all for now, but if you haven't already done so, you can pre-order Devil Survivor 2 here or the DS2/DSO double pack from here.
I'll be back next week, but until then why not follow us on our Twitter and Facebook pages, our Youtube Channel and our Google + account, where we'll be posting all the latest news from Ghostlight? You can also follow me on Twitter for a more personal take on all things Ghostlight.