Fri, 6th Dec 2013 | Posted by Ross
Hi everyone. Do you like the idea of winning some great prizes from the Ghostlight archives? You do? Great! :) Because, we just happen to have a tasty selection of goodies that we're putting up for grabs in a massive competition giveaway. One lucky winner will receive all of the following...(takes a deep breath)...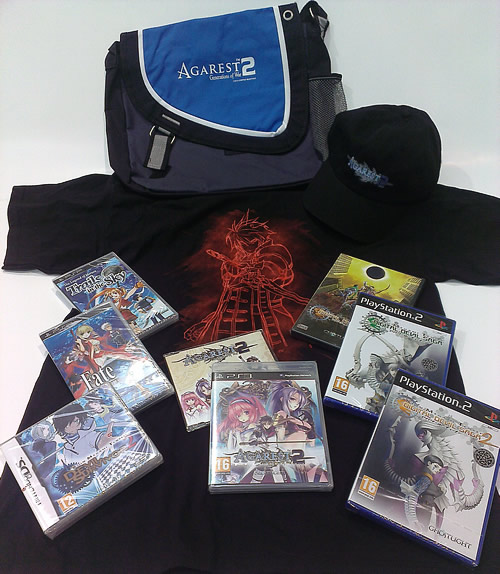 SMT: Devil Survivor 2 'Gold Edition' DS Game
SMT: Digital Devil Saga PS2 Game
SMT: Digital Devil Saga 2 PS2 Game
SMT Digital Devil Saga 2 Official Soundtrack CD in DVD Case + inlay
Agarest: Generations of War 2 PS3 Game
Agarest: Generations of War 2 Messenger Bag
Agarest: Generations of War 2 Baseball Cap
Agarest: Generations of War 2 T-Shirt
Agarest: Generations of War 2 Official Soundtrack CD in Jewel Case + inlay
Legend of Heroes: Trails in the Sky PSP Game
Fate/EXTRA PSP Game
Please note that we will be giving away the PAL version of all the above games.
...Phew! Now that's quite a hoard of goodies! To be in with a chance of winning this little lot, all you have to do is let us know your favourite game of the previous generation of consoles - look at us being all topical! :) Just add your answer to the comments section of this blog before Sunday 14th December, and you'll automatically be entered into our prize draw. We'll announce the winner on this blogpost the following Monday, so be sure to check back here as we'll also be providing information on how to claim your prize.
Please do not enter the competition with a guest account, as this would mean we would be unable to give you your prize.
I'll be back next week, but until then why not follow us on our Twitter and Facebook pages, our Youtube Channel and our Google + account, where we'll be posting all the latest news from Ghostlight? You can also follow me on Twitter for a more personal take on all things Ghostlight.