Thu, 8th Mar 2012 | Posted by Ross
Hi everyone. You may remember our announcement of Fate/EXTRA earlier this year. I know we've kept fairly quiet about it since then, but that's not because we've forgotten about it. In fact, since we announced it we've been cooking up a rather special Collector's Edition. Not only that, but we've now got something rather cool to show you: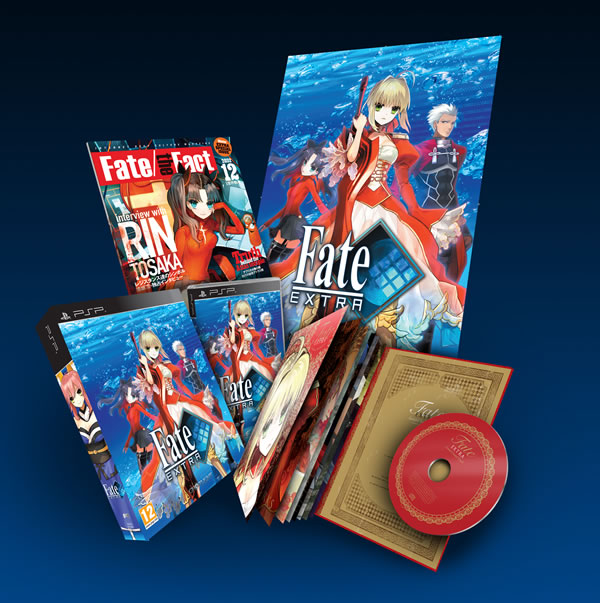 Looks lovely doesn't it? :)
Our fantastic Collector's Edition contains:
The game on UMD (obviously

:)

)
The Official Soundtrack CD
A 16 page Artbook in a presentation digibook
All contained in a special Collector's Box.
But that's not all: anyone who orders Fate/EXTRA directly from the Ghostlight Store will also get these exclusive goodies:
A massive A1 poster (posted in a cardboard tube, so no fold marks!)
The Fate/The Facts book, featuring an interview with Rin Tosaka, as well as all the latest news from the Fate Universe.
We don't have a release date yet, but keep your eyes peeled as we'll be announcing more details on the release date and price as soon as we are able.
Talking of keeping your eyes peeled, you should be watching the Ghostlight Twitter account as, to celebrate the launch of the Vita, we're going to be offering you the chance to win some redeem codes for some of our SEN games.
All our PSN games are available on the Vita Store, so those of you who missed out on our games on PSP should head over to the SEN store on your Vita and pick up some of our fantastic range of JRPGs. The PSP was (and thanks to us, still is!) a fantastic console for JRPG lovers, so why not check out what all the fuss was about? :)
That's all for now. I'll be back next week but until then, why not follow us on our Twitter and Facebook pages, our Youtube Channel and our Google + account, where we'll be posting all the latest news from Ghostlight? You can also follow me on Twitter for a more personal take on all things Ghostlight.